Posted by Prymface on Sunday, December 29, 2013
Well, 2013 has come to an end and it's time to reflect on the year again for young mums. Some months have been busier than others for Prymface but many young mums (and some young dads) have been making their own networks and working much harder than me to improve opportunities for young mums and show just how amazing young parents can be:
January
The lovely long standing Prymface supporter with a huge fab base of her own, Simply Hayley, featured on a BBC Radio 4 programme in Jan after they contacted Prymface looking for a young mum who was born in 1990. The radio programme 'Generations Apart' followed the lives of a number of young people and this show sensitively captured a glimpse of Hayley's life which includes a lot of hard work and happiness as a single young mum of two working and studying. No lazy stereotypes here! Hear about the experience from Hayley's perspective
here
.
I found out in Jan that Prymface had been nominated for the Young People's Sexual Health Project and Sexual Health Media Campaign of the year in the 2013 Sexual Health Awards by one of last year's lovely winners after meeting her at a parliamentary reception that Brook had invited me to (where I also met the delightful Simon Blake and scary but polite Amber Rudd among a number of other people I admired from twitter)
I also wrote a
review of BBC3's Pramface
which takes a comical view of teenage pregnancy but manages to 'not be the kind of funny where middle-class men dress up as a stereotype in an effort to mock the working class, but a less divisive kind of humour.' *Not to everyone's taste but I loved it!
February
In February I shared some of the results of the
Inquiry into Teenage Pregnancy
which Prymface and almost 100 young mums had contributed to, and brought attention to the launch of the Scottish Inquiry which had resurrected some worrying myths such as Ann Eriksen, of NHS Tayside, arguing that young people do see teenage parenthood as a route to being re-housed - Eeek!
I also tried to draw attention this month to the analysis from Gingerbread which found that young and disabled parents would be worse off under
Universal Credit
. Single parents under 25 were assessed as requiring £15 a week less for no other reason than their age... and it seemed to have been agreed without any attention from the media..A #youngmumschat highlighted that this would have a devastating impact on young mums already struggling with cuts:
Plus, teenage pregnancy rates were down again so I officially declared the
epidemic was OVER
! (even though it never existed in the first place!)
March
March saw THAT terrible ad campaign being plastered across New York. Thankfully though there was quite backlash from young parents as well as Planned Parenthood for wasting government money on deliberately
shaming young mothers.
I also found out this month that Prymface had been SHORTLISTED for the media campaign of the year in the 2013 Sexual Health awards. I got a free guest ticket to the awards ceremony and took along fellow young mum, Sorayah. The award category was presented by the gorgeous Diane Abbot. Sadly we didn't win but we got to dress up and meet lots of people which was fun! Being shorltisted also meant that supporting young mums had been recognised as important within sexual health work. And it was great to meet Sorayah at last!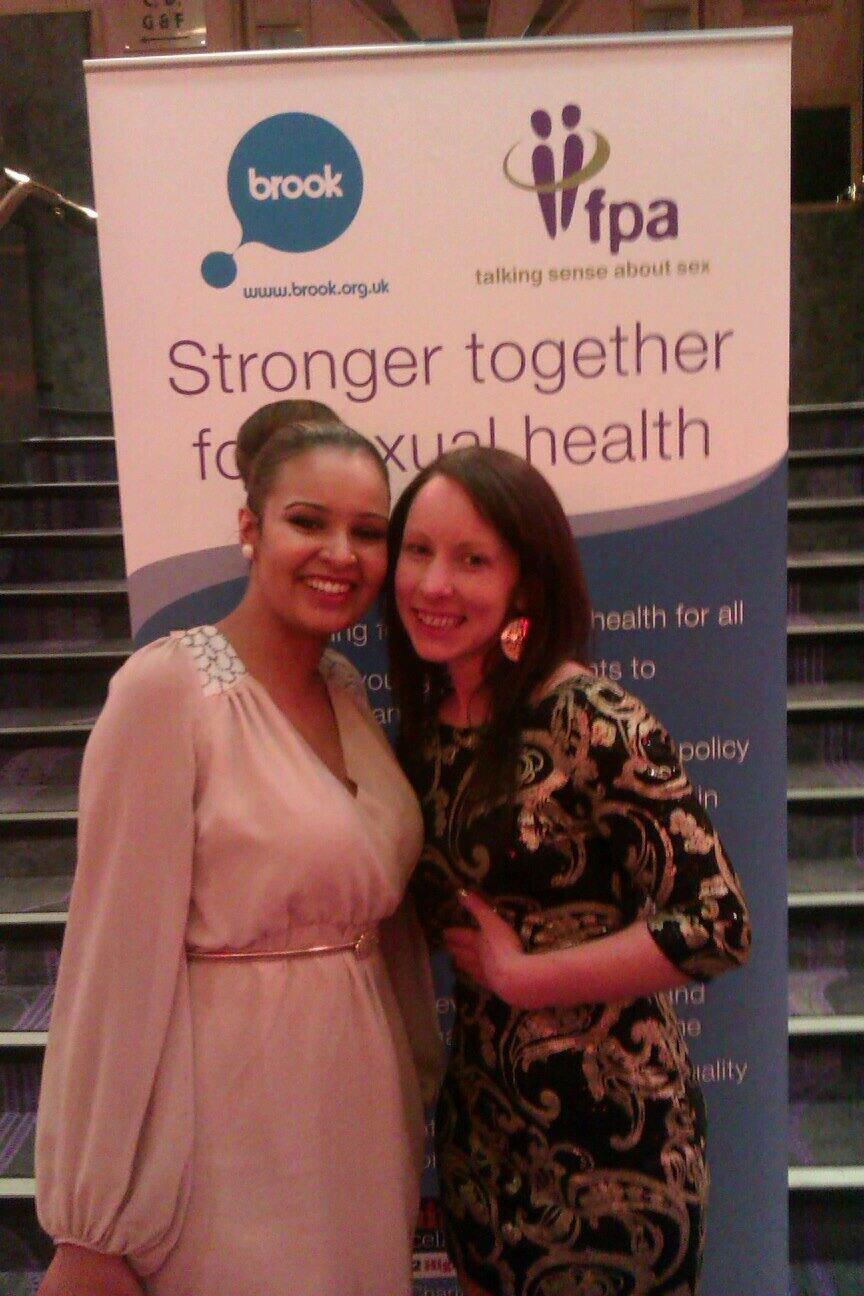 Following on from last month's discovery that young parents would lose out under universal Credit, I drafted a template letter for people to send to their MPs on the
discrimination towards young mums
of Universal Credit. Disappointingly my MPmissed the point completely, which showed just how little understanding of this there is!!
We also did our first joint #youngmumschat with Story of Mum and got our hashtags trending (which is a good thing for those who don't use twitter!)
April
An interview I did for Izzyy Koksal on
representation and realities of young motherhood
got published in the F-word in April.
This month also saw the launch of the book:
'The good, the bad and the unforgettable'
which featured a number of letters written by young mums I found on twitter, including our celeb Sorayah, and put together by Vicki Smith from the Leicestershire Teenage Pregnancy Partnership . You can buy the kindle version
here
(If can click on 'look inside' you can read the amazing letter from a young mum from twitter entitled Dear Society)
#youngmumschat was still going strong in April and we had a fab chat with Guest and
Token-Dad Scott
I also took a trip down to Londres to meet the fab peeps behind youngdadsTV to discuss ideas for young mums....
There was also this brave piece in the Guardian this month about
respecting a young woman's decision
to become a parent - A refreshing change! Its also great to see non young mums such as
Slutocracy
challenging young mum stereotypes:
May
#Noteenpreg on twitter was launched by the Candie's Foundation - I mean really??? Did they honestly think this would go unnoticed? Naturally I
wrote about it
along with many others, even if I did have to appeal to Justin Bieber fans to make my point! Natasha Vianna also started the #NoTeenShame to counteract the abuse towards young parents.
Prymface turned 4 in May and we celebrated with a
quiz
even though I got put in twitter jail! (always the sign of a good party I say!)
We also had the lovely young mum now
teenage pregnancy specialist
as a guest for #youngmumschat
Screenwriter Lucy controversially wrote about how being a teenage mum actually made her career in this fab
post
!
June
I critisised the sensationalism of the Centre for Social Justice's report on '
Man Deserts'
which lead to a whole page of hate about Prymface on some strange site which I wont link to!! (but I'd clearly riled up the right people!)
July
In July, the 40 Group, a coalition of the most vulnerable Conservatives, put together a set of policy proposals to win over voters, which included not giving benefits to teenage parents! Thankfully young mum Sarah Ditum had it covered in the
Guardian
(who seem much more open to posts critisising Tory proposals!!) I spoke on BBC Radio Kent about how the proposal was based on myths and stereotypes, and my interview was followed by one with Amber Rudd who was disappointingly backing the proposal and saying she would happily talk to me about it to change my mind! Hmmmm, still waiting for that call!!
Vikki wrote a great piece on the
benefit myth
and Sorayah wrote a post about being a
teen mum and proud
! - Not even a load of vulnerable Tory politicians could hold us back!
August

I wrote a post about
being on the radio
just in case anyone ever wanted to read some facts rather than anecdotes!
September
Skimmed Milk wrote an insightful blog post comparing her
teen motherhood experience to older motherhood
:
October
I wrote on my blog about still feeling like a young mum when taking my son round
university open days
: Indeed, once a young mum ALWAYS a young mum.
The inspirational Elle featured on BBC Radio 1's '
16 Plus
' after they contacted me looking for a young mum to interview
and she made everyone cry happy tears with her emotional story about finding out she was very soon going to be a mum at 15.
Gingerbread got in contact to ask us to promote the campaign 'we all benefit' and we had a busy
#youngmumschat
with lots of young mums sharing their stories on how they had benefited from the financial and other types of support they received when they needed it.
I was also given the opportunity to look over and provide a foreword for
Tommy's
invaluable 'Young Womans Guide to Pregnancy' which is free for any pregnant teenager and a great resource.
Ruth then wrote this honest post on
teen motherhood and shame
which struck a cord with a lot of fellow young mums.
I also did a phone interview for Pick Me Up magazine this month but got confused and spent a week looking for it in Take a Break instead (surprisingly to no avail!) so not sure what this interview ever looked like!
November
Sorayah appeared on BBCs Newsnight again, just for a being a mum and cos Paxman now has her on speed dial since her amazing Newsnight debut last year where she stated she was proud of being a young mum!
I also discovered Juvin this month who was running a workshop at a
young parenthood conference
She found my first piece in the
Telegraph
, and we made contact via twitter - She is an amazing young mum who has set up YoungMamaUKs, which are peer led groups for young parents. She managed to link up with the Family Nurse Partnership and looks set to take over the world young mum style, and she's still only 21!
November also saw the start of Monkeywood's northern tour of Flesh, a fab theatre production about teenage pregnancy which I had the opportunity to see the Script in Hand and
write about
last year:
December
#FeminismIsForTeenMomsToo took over twitter in December, thanks again to Natasha Vianna, and reminded the world that
feminism needs teen mums
just as much as teen mums need feminism!
Again, writing this up, I've been surprised at just how much has actually happened this year and I'm already thinking about even bigger things for next year! Very soon we will see the launch of Lucy's book which I'm really excited about and hopefully we will arrange some kind of young parent event where we can all meet up (TBC!!)
Thank you so much to all the young mums who have been part of Young Parents Associates and have been in contact all year coming up with new ideas and sharing their own experiences of being a young mum. We now have 16 UK young mums on board and I love seeing the friendships that have been made through this network (especially Charley and Sophie!!)
Thank you also to all the other people who follow prymface on twitter or have emailed your support. It all means a lot and makes it worthwhile!
The year has been a bit of a mixed bag for young mums; we want to be fighting for better opportunities and recognition but instead we keep being drawn back into defending basic rights for equal benefits due to the ignorant myths that are still being promoted about why girls get pregnant in the first place! It can be frustrating but hopefully by amplifying the voices of more and more young parents society will slowly realise that the Vicky Pollard image they have in their heads of young mums isn't actually the image they are being faced with. Young mums are no different to anyone else, they just have to work a lot harder to be heard!
Happy New Year everyone and I'll see you on the other side! xxxx
Ps Please also check out
Young Mom Support
. They've done way too much this year for me to include bits in this post and do it justice so just go read and donate and then stand back in awe!
Tags:
2013 endofyearreview
blog comments powered by

Disqus